Home
Welcome to Oasis!
The Oasis Gardens Resort is located in the heart of Ciudad Colón, a beautiful mountain city in the Central Valley of Costa Rica.
We are only 20 minutes from the Juan Santamaría International airport, 15 minutes from the popular mountain city of Escazu and about 20 minutes from the capital city of San Jose.
Oasis Gardens is a perfect location, it is steps from shopping, restaurants, buses and the town's La Casa Cultural. This is an unimaginable place and you will feel at home in our privileged location, which is very close to unique places in Costa Rica where culture, sports, art and its people make Ciudad Colon is a spectacular place to live and visit. It also has an amphitheater, many famous sculptures, incredible medieval caves, cozy trails, coffee plantations and beautiful landscapes with views of the mountains.
The Pacific Ocean is located about 75 minutes from Ciudad Colón. There are a variety of beautiful beaches where you can enjoy sand and sun, diving, fishing, surfing and more.
A getaway to Costa Rica can be the most relaxing vacation you will ever enjoy. Our visitors have the opportunity to see exotic animals, such as sloths, quetzals, monkeys, hummingbirds and many other species. If you like nature, crystal clear water, dense green forests – all can be enjoyed in a single day. This and more makes Ciudad Colon and Oasis Gardens Resort a unique place in Costa Rica.
Bring yours clothes, electronics and your sense of adventure. Furniture, linens, appliances large and small are included. Our central courtyard is always brimming with mature tropical plants and its peacefulness attracts a plethora of birds and butterflies. Multiple garden patios, private and social, truly make this an Oasis. Gorgeous murals add an artistic touch to the beauty.
For over a decade, an extraordinary mix of people have all come together here at Oasis. Lifetime friendships and forever memories makes this a very special place.
---
Main Entrance of Oasis Gardens Resort in Ciudad Colón, Costa Rica.
---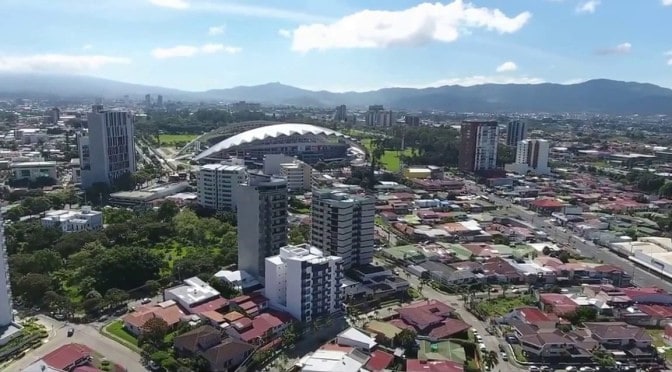 Beach vs. Central Valley Living in Costa Rica: What's the Difference?
The latest information about living in Costa Rica. The advantages and disadvantages of the beach vs the Central Valley.
---
Mountain Resort Living in Costa Rica
Oasis Gardens Resort is conveniently located between the city and nature in the quiet town of Ciudad Colón, Costa Rica.
Why you might LOVE to visit or live in Ciudad Colón:
Voted "The Best Small Town" in Costa Rica
Typical Tico village with modern conveniences
From local foods to four-star dining, sure to please the gastronome
We have medical and dental centers in town and many more within a 10-mile radius
Spanish & cultural immersion while on vacation in this tropical paradise
Nightlife, dining, theater, museums all available in town and many more within 20 miles
Volcanoes, hot springs, waterfalls, horseback riding, whitewater rafting
Extreme sport enthusiast, ziplining, rappelling, mountain biking
GREAT home-base while traveling to other destinations around the country
Ciudad Colón is conveniently located – Look how close everything is?
Beaches are roughly an hour away
Juan Santamaría International Airport 15 miles (25 km )
Downtown San José (Capital city) 13 miles (22 km)
University for Peace, El Rodeo 4 miles (7 km)
CIMA Medical center 8 miles (14 km)
New Biblica Hospital in Santa Ana 4 miles (6.5 km)
Poas Volcano 33 miles (54 km)
La Paz Waterfall & Butterfly Garden 36 miles (59 km)
Pacific Ocean 43 miles (70 km)
Caribbean Ocean 112 miles (179 km)
PriceSmart (Costco) 3.2 miles (5 km)
---
Come visit us in Costa Rica. Pura Vida!